PET PARADISE AT QUINCY STATION
Our Pet Friendly Apartments With Exceptional Amenity Spaces
Quincy Station is partnering with local shelters to reduce the non-refundable pet fee by 50% if an animal over the age of 1 is rescued. Documentation will be required.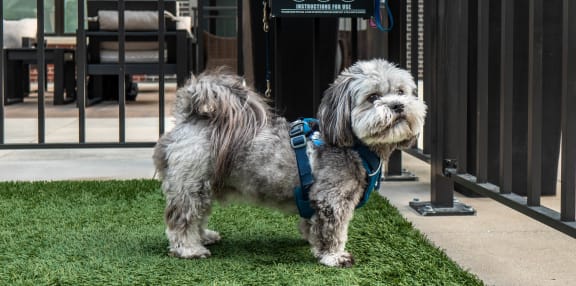 OUR PARTNERS
Teaming Up with Our Local Shelters
Quincy Station, Hinsdale Humane Society, and West Suburban Humane Society are all working together to find loving homes for all animals in need.
The Tuthill Family Pet Rescue & Resource Center opreated by Hinsdale Humane Society is a nonprofit animal shelter providing innovative care and adoption services for all animals, including those that are harder to place.
The West Suburban Humane Society is a volunteer-based, animal welfare organization that was founded in 1972 as a lost-and-found referral service. Now, they operate at full capacity at all times.

Indulge Your Furry Friend
With The Ultimate Pampering
At Our Pet Spa!

Let Your Furry Friend
Run Wild On Our
Outdoor Pet Run!

Happy Pets, Happy Owners:
Quincy Station's Pet Amenities
Have Got You Covered!
Testimonials
I enjoy living here and all the employees are very friendly and attentive.

- Suzanne
We absolutely love our new home! The building is beautiful. The amenities are gorgeous. Our property management team is extremely helpful and pleasant.

- Mitchell
Everything has been great so far! The team is so friendly and always quick about answering questions.

- Makaela